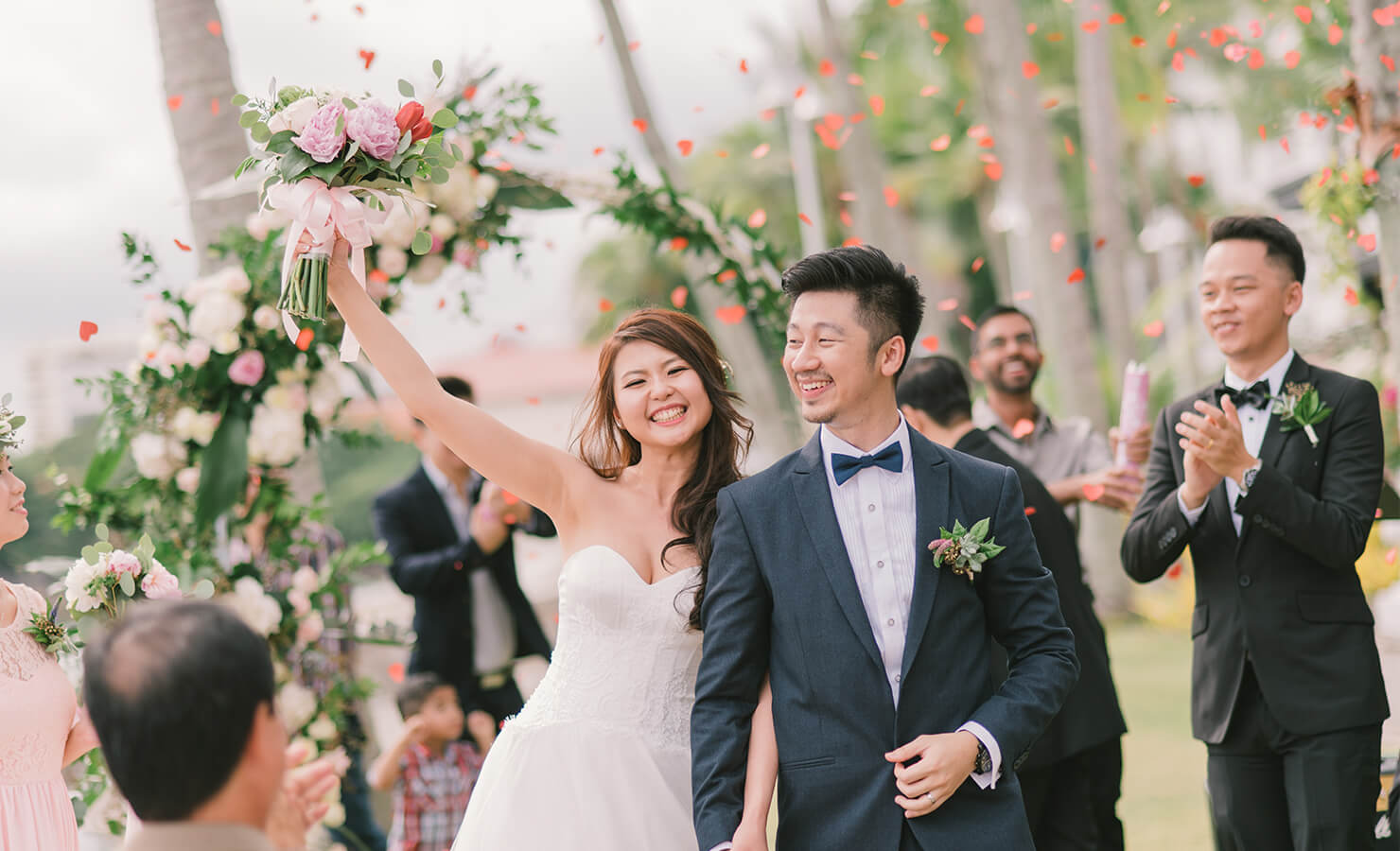 The ultimate guide to choosing the perfect flowers for an IG-worthy wedding


The wedding arch, decorated with lush petals of forget-me-nots, pretty blooms of ivory roses, filled with baby's breath and adorned with greenery, frames the newlyweds as the groom kisses the bride for the first time, as husband and wife. In her hands, the bride holds a beautiful wedding bouquet, a careful arrangement of forget-me-nots, white gardenias and ivory roses, with an assortment of lush leaves and greenery cascading down like the train of her wedding dress.
Flowers are the icing on the cake to a perfect wedding day. Planning the ideal wedding flowers takes time and careful measure. A wedding simply isn't complete without beautiful flowers for the bride, groom and their loved ones. Wedding flowers encompass the bridal bouquet, wedding decorations, corsages, flower crowns, and perhaps even door gifts, if you're feeling fancy. Fresh flowers add a touch of beauty to the wedding - plus, they make gorgeous wedding photos. Just so fitting for gorgeous Instagram posts. Anyway, you only get one wedding day, and what better way to celebrate your big moment than with beautiful flowers, perhaps royalty inspired too.
Planning your wedding flowers is easier than you think - you just need a couple of comprehensive tips and some wedding flower inspiration. Read on for the ultimate guide to choosing the perfect flowers for an Instagram-worthy wedding of your dreams.
Here's a comprehensive guide on how to choose the perfect flowers for your wedding.
1) Do your research
You can never be too prepared for a wedding, especially since it will be one of the most special days of your life. One of the most important things to do when picking out your wedding flowers is to research on the factors related to it. If you would like your flowers to match your wedding theme, you'll need to figure out the types of flowers and colours that suit your theme perfectly. Jotting down a list of flowers and bridal bouquet ideas to suit your wedding theme would surely help to make your final decision when it comes to selecting your wedding flowers. Meanwhile, make a list of local wedding florists who can help you execute your wedding flower inspiration and ideas.
For example, "wild flower" themed wedding bouquets with a forest-like finish make such universally pleasing Tumblr-esque wedding pieces. Honestly, you simply can't go wrong with rustic wedding flowers and decor. They suit most themes with their lush greenery and pops of colour. Princess Eugenie's wedding flower decor is an example of such autumnal, forest-like flowers.
Malaysian model Sheena Liam's wedding bouquet was a combination of traditional white wedding flowers and rustic charm. You can search around to find inspiration for your wedding flowers, which brings us to our next point.
2) Find inspiration for wedding bouquets
Thanks to the birth of Instagram, inspiration for wedding flowers can be found just about everywhere. It's almost like every season is wedding season - which is just so wonderful. Us florists too, sometimes scroll through Instagram posts and royal wedding archives for inspiration, and to get a peek at what's trending.
Royal wedding flowers almost always take the cake for being trendy all-year-round. We daresay the influence of royal wedding flowers play a significant role in the bride's wedding flower preferences. After all, what's it like to be royalty for a day? Flowers inspired by the royal wedding is about the closest most of us can get to being a princess.
Let's take a look at Prince Harry's marriage to Meghan Markle. Her wedding flowers were carefully picked out by the prince from the royal garden in Kensington Palace and arranged by royal wedding florist Philippa Caddock just the day before the ceremony. The bouquet was a hand-tied wedding bouquet made of scented sweet peas, lily of the valley, astilbe, sprigs of jasmine, astrantia and myrtle blossoms. These flowers were speculated by many to be handpicked from Queen Victoria's garden and gathered from the same bush as was Queen Elizabeth's royal wedding bouquet. How poignant - and fitting for a royal wedding, of course.
In the midst of browsing through all the gorgeous wedding flowers and decor, don't forget your own creative flair and style. If you have an idea of what you want your wedding flowers to look like, sketch it in a notepad so you won't forget it. Plus, you may give your inspired sketches to your florist so they'll have a clearer picture of your desired wedding floral looks.
3) Check if the flowers are in season
There's a pretty good reason for this - flowers that are not in season may not be available at the moment if they're not in season. For example, peonies make popular wedding flowers because of their rich blossoms, stunning colours and symbolism of a fruitful marriage. However, they're only available seasonally, during certain months of the year, such as from May to August. Always remember to check with your florist to find out if your flowers are in season during your wedding period - and if they aren't, let your florist suggest an alternative for you. Perhaps it is possible to import the flowers of your choice, but there may be a higher price for that as extra costs are involved to keep the flowers fresh from overseas.
4) Choose your wedding flowers.
Here's a list of flowers that make popular choices for wedding celebrations, and some reasons why they do. If you already have a favourite that's not in the list, pick that one.
a) Roses
A metaphor for love and beauty, roses are available all-year-round as wedding flowers. They symbolize a union of lovers and add a touch of purity on their special day. There is quite a variety of types of roses that would make gorgeous bridal bouquets such as farm-grown roses (naturally grown roses with blossoming, open buds), spray roses (which have much smaller, closed buds - they're very cute) and tea roses (commercially-grown roses with evenly-shaped buds).
b) Peonies
A symbol for an everlasting love according to the Chinese customs, peonies are adored for their full blossoms, rich scent, and beautiful meaning. A bridal bouquet made of peonies are gorgeous, as the flowers' full buds can give shape to the bouquet naturally. These flowers can be used for decorative centrepieces too. Peonies are seasonal flowers but they may be imported from other countries if they're not in season. Remember to check with your local florist about this.
c) Calla Lily
These elegant, round blooms are shaped like trumpets and represent the meaning of "magnificent beauty." It's no wonder they're popular wedding flowers with their unbelievably elegant shape and cream ivory colour. Calla lilies are most suitable as long-stemmed presentation-style bouquets but these stems may be cut gently to create a version for nosegay bouquets and boutonnieres.
d) Hydrangeas
Intensely bushy yet delicate, hydrangeas make a popular selection of wedding flower types. These flowers are available in vibrant and gorgeous shades of blue, bubblegum pink, pastel purple and even green - if you want a touch of forestry. These shrubs are rich and hence they can fill up flower arrangements and bouquets, making them look more "full" and complete.
5) Select a bridal bouquet style
To be honest, I didn't know there were so many bridal bouquet styles before I wrote this piece. As a bride, I'd be confused if I was given so many choices under pressure. Here's a list of different bridal bouquet styles and what makes them so special, so you'll know which one to choose when it's your turn.
a) The "hand-tied" bouquet
The hand-tied bouquet is a simple, unstructured style of bouquet. It's basically a bunch of handpicked flowers with their stems grouped together and tied firmly with a simple ribbon. These minimalist bouquets are quite a popular choice among brides, with many of them choosing to carry these flowers across the aisle on their big day. Meghan Markle's royal wedding bouquet is an example of one in this unstructured style. The simple bunch included scented sweet peas, lily of the valley, astilbe, sprigs of jasmine and astrantia as well as myrtle blossoms. These fresh stems were handpicked by Prince Harry himself on the previous day from their private garden at Kensington Palace and secured with a naturally dyed silk ribbon.
b) The "nosegay" bouquet
When compared to the hand-tied bridal bouquet, the nosegay bouquet has more structure to it. Flowers are cut to the same length and tightly grouped together with either lace or or organza ribbon. It's stems are usually packed tightly as well, to give it some shape. If you're petite, this bouquet would suit you best so as to not overwhelm your figure, but you do you!
c) The "presentation" bouquet
Glitz and glamour all in one bouquet of gorgeous, long-stemmed flowers. It's your wedding, after all. Also known as the arm sheath bouquet my some, the bride cradles in her arms a number of long-stemmed, showy flowers such as delphinums, calla lillies or roses, as she walks down the aisle. It's sometimes also called the "wand" bouquet so if you're a fan of Harry Potter and all things magical, here's the option for you.
d) The "cascade" or "teardrop" bouquet
Another really popular bouquet style! The flowers are arranged to look like they're cascading like a floral river flowing from the bride's hand down following the train of her dress. This bouquet is lavish, beautiful and really accentuates the beauty of the wedded couple. Princess Diana, for example, had a bouquet in this style for her wedding. Her arrangement was a gorgeous cascade of white gardenias, orchids, freesias and lily of the valleys, about 42-inches in length and was said to weigh about 2 kilos. It's such a contrast compared to today's trend of smaller, more minimalist bouquets.
6) Make a checklist of flower items required at the wedding
Besides the bridal bouquet, there are a few other types of flower items you'll need at your wedding celebration. Here's a checklist of them so you know if you're on the right track. Since there's no right or wrong when it comes to much ado about wedding flowers, these wedding-flower items are not compulsory, but if you'd like to know what they are, read on!
a) Bridal bouquet
One of the most significant parts of the wedding is the bridal bouquet. It's the one the beautiful bride holds in her hands when she walks up the aisle to her beloved husband - it's the bouquet that gets to share this special moment with her. Plus, it helps to have a flower bouquet when you pose for photos if you never know what to do with your hands. There's also the wedding bouquet toss to think about - some brides prefer two separate bouquets. One as the "real" wedding bouquet and one for the purpose of tossing. Tossing the bridal bouquet is a traditional game where it is said that the one who catches it will be the one who gets hitched next.
b) Wedding decor
Wedding flowers are necessary for the wedding arch, backdrop, centerpieces, photobooth and other wedding-related decor pieces. These flowers add a touch of whimsicality to the wedding. Plus, an arch of fresh flowers would make your special day so breathtaking and stylish floral centerpieces would surely wow your wedding guests. When you need a simple picture-perfect moment, fresh flowers are the key ingredient to an Instagram-worthy special day. If the bride and groom would like to pull away in a gorgeously decorated wedding car, why not decorate it with fresh flowers?
c) Bridesmaid bouquet
The bridesmaids need bouquets too. These are usually a smaller version of the wedding bouquet. If a bride has many bridesmaids, it's best to keep the bridesmaid bouquets simple so as to not overwhelm the bridal party. However, if there's a smaller wedding party, the bridesmaid(s) can carry fuller flower bouquets of the same style as the bride's.
d) Flower crown
Bridesmaids and flower girls usually wear a flower crown or a flower headband. These flower crowns are the epitome of every girl's Greek princess dreams. The flower headband for the bridal party is usually made minimal and simple, with a few sprigs of wedding-themed flowers and adorned with lush leaves. Sometimes sprinkled with specks of glitter or sprays of gold. The bride can wear a flower crown too, attached to her veil or styled with her hair as she likes it. Nothing says "Greek princess" like a minimalist and pretty flower crown.
e) Wedding corsage
There's no rule as to who gets the wedding corsage - the bridal party, the parents of the newly weds, and perhaps their siblings and close friends may be on the list of wedding corsage receivers. Either way, gorgeous wedding corsages signify honor and gratitude to those who have been with the couple and supported them throughout their wedding journey. Floral corsages may look small, with one bud and mostly fillers, but they're kinda tricky to get right so the making of these little posies are really quite significant.
7) Consult your local wedding florist
You'll want your wedding to look like the best day of your life- because it is, and one of the key factors is to consult with your wedding florist. Show your florist your ideas and wedding flower inspirations and let them add a touch of their magic to bring your wedding flower ideas to life! Discuss your budget with them too, as different flowers may be priced differently, and your florist would be able to give you the best wedding flowers that suits your budget. You may schedule a discussion for all this to happen, and I'm sure your florist would be happy to hear you out.
If you'd like to let go of all the planning shenanigans, consult your wedding florist to get the job done for you. All this makes it so much easier as your wedding florist would know her stuff - what's in season, choosing the right flowers that'll last throughout the wedding day, flowers that suit your wedding theme, and the flowers that you will surely love. Most wedding florists have lookbooks, wedding pages or portfolios. Take a look at ours and get inspired for your own wedding.
Would you like us to be your wedding florist? Drop us a line and we'll be in touch soon!
Want more?
Read more stories
If you didn't know it already, the month of October is all about breast cancer awareness. Join our Pink October campaign to support breast cancer awareness in Malaysia. From 1st to 31st of October,...
Read more
Make someone's day
Send the perfect gift