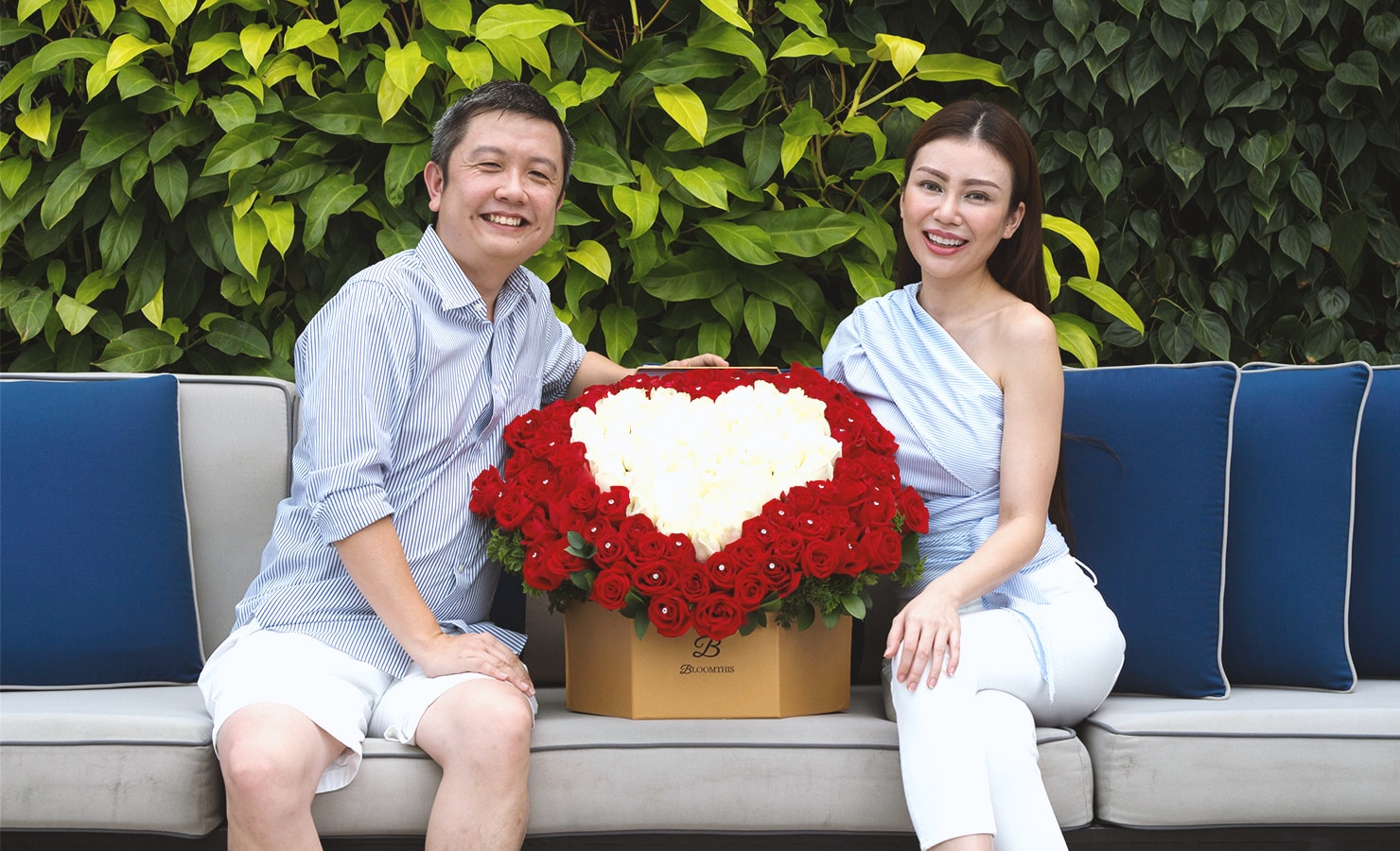 Unfold your love story with Vince Tan & Melissa Seow
What's love like with kids? What happens when you've been together for years? As Sam Keen said, "A great marriage is not when the 'perfect couple' comes together. It is when an imperfect couple learns to enjoy their differences."

Meet Vince Tan and Melissa Seow. Husband and wife of six years and best friends of almost two decades. Vince Tan is an international speaker and founder of Shock Media Studios, one of KL's fastest growing digital agencies. Melissa is a digital consultant, beauty queen, social entrepreneur and co-founder of BloodGo.

This February, BloomThis and Hotel Stripes are celebrating Valentine's with #unfoldyourlovestory, a series featuring local couples and their inspiring journey of love. Keep reading to the end for an exciting contest.

What's the secret to a happy, blissful marriage? We speak to Vince and Melissa to find out their recipe.
How long have you been married?
M: We've been married for 6 years and counting. I've known Vince for almost two decades.
V: She was 14 and I was 16 at the time. I was the geek in school and back then, geeks weren't very popular. I noticed her but she didn't really notice me. She friend-zoned me.
M: We've been the best of friends for the longest time.
V: That's called friend-zoning! One fine day, I messaged her on MSN, about seven to eight years ago, and we hit it off afterwards.
M: Here we are.

Do you still celebrate Valentine's Day?
V: Actually we do!
M: Not exactly on the day itself but we know that at that time of the year, we've got to do something.
V: We became a little more practical. We celebrate Valentine's Day but we actually celebrate it every other day as well.
M: It's more of setting aside time to enjoy quality time together, so for some, it may be Valentine's Day, but for us, it's making an effort any other day as well. As long as we find the time and effort, it's Valentine's Day every day.

What's your secret sauce of balancing work and life as a successful entrepreneur couple?
M: Balancing life and work is never easy, as a woman, as a man, and even more so, as a couple. The key is empathy and teamwork. We have to understand that roles in a marriage will constantly be evolving because at every phase of a relationship, there are different needs. The bigger picture, at the end of the day, is knowing what your goals are and working together to enjoy this journey of a lifetime.
V: When I started my agency, Shock Media Studio, a couple of years back, I needed to be out there most of the time. She delivered our triplets the same month I started the company, so it was tough on her. Recently, she joined the Mrs World competition and I took a lot of time off to give her the support that she needs. That's what we mean by at different times, you need to adjust your expectations and adjust how you work with each other, to support each other. I think that's the key. If both of us had the same expectations and at the same time throughout all these years, I'm pretty sure there are times where expectations wouldn't be met. I think being dynamic in how we adjust our expectations of each other is really the key to a successful relationship.
M: I'd like to add that there will never be an equal or fair role and as partners, we need to understand that and look at the bigger picture at the end of the day.

What's the sweetest thing you've ever done for each other?
M: I'm not sure if it's the sweetest thing but it was a random thought that I wanted to do. Vince is an international speaker and he flies around a lot. He's used to UBERing himself to the airport and back alone. On one of his trips, I decided to surprise him! I arrived one hour early at the airport so I wouldn't miss him. I waited for one and a half hours and he still wasn't out. So, I texted him "Where are you?" and he answered "I'm on my way back." I was "Nooo, I'm here!" So, the surprise was actually on me because I waited for close to 2 hours and I couldn't catch him. He ended up at the nearest petrol station and I picked him up and made our way back.
V: Every now and then, when she wants to pursuit something, I would just say "Let's do it!" For example, if she wants to do the clothing business, I'd say let's hop on the flight to China and go for it. Both of us don't even read Chinese. That's what guys consider as sweet. We support our partner in whatever they do. That will be my definition of the sweetest thing I've done for her.
M: That is his interpretation. My interpretation of something sweet would be something as simple as putting on shoes for me when I'm wearing a gown and can't bend down or opening the door, which I appreciate very much.

What's the one thing you can't stand the most about one another?
M: My answer is an open secret, everybody knows. Snoring.
V: I've got to admit. I can't stand it either. I snore so badly that I wake myself up. It's actually a very tough question. I've never thought of one specific moment that I can't stand about her. Those kind of thoughts never came to mind. The day that I signed on the dotted line and fell in love with her, I accepted her as a whole. Her imperfection and her perfect self all come in a package. Either you take it all or you don't. There's no such thing as choosing certain parts that I like. It doesn't work that way.
M: I knew this was going to be a diplomatic answer.

What does creating moments mean to you?
M: Creating moments is not about creating one moment but rather memorable habits. I'll give you an example: I used to tell Vince not to buy me flowers because they're expensive and exorbitant, especially on Valentine's Day. It's like RM 10 for a stalk! A couple of months ago, I started receiving flowers every fortnight. My colleagues thought that I had a secret admirer. Who would've thought that my husband of 5 years would actually do something like that. He did something out of the ordinary to catch my attention and to spice things up in our relationship, which was very nice and a beautiful thought.
V: To be honest, she probably creates better moments than I do. My moments are about making sure that I try my best to fulfil my vows and ensuring that she always has good internet connection (part of the vow) and making sure that her gadgets are taken care of. I'm the technical guy! And making sure that she has a dessert every night because she loves dessert. Things like that are my moments that I try to create for her.

What advice do you have for young couples (p/s not that both of you are old at all).
V: I realise that when a lot of people complain or when they have an unhappiness about their partners, it's about two things. The first is expectation. When expectations are not met, do they even talk about it? If you don't talk about it and just lash out, it's unfair to both sides. I think there's a need of constant communication and to be honest about expectations. It's about how you take conscious effort to communicate effectively. Try your best to speak to each other as much as possible and add a little more honesty to it or being open about it. That would be my two cents to the young couples out there, even though we're also very young.
M: I agree with Vince very much about expectations. It's also important, especially for the ladies, that we shouldn't expect our partner to read our mind. That's where disagreements always happen. So gather up the courage, open your mouth and tell him what you want. Tell him straight. That will solve a lot of future arguments. Correct?
V: Very correct. But if your partner repeats three times and you still don't get it, the guy deserves to be punished.

Describe each other in one word
M: Enterprising.
V: Empathy.

Join the Unfold Your Love Story Contest
Share your love story and win a one night stay (Executive Studio) and a 3-course dinner set for two at Hotel Stripes, an Autograph Collection hotel and a RM 300 gift card from BloomThis!
Want more?
Read more stories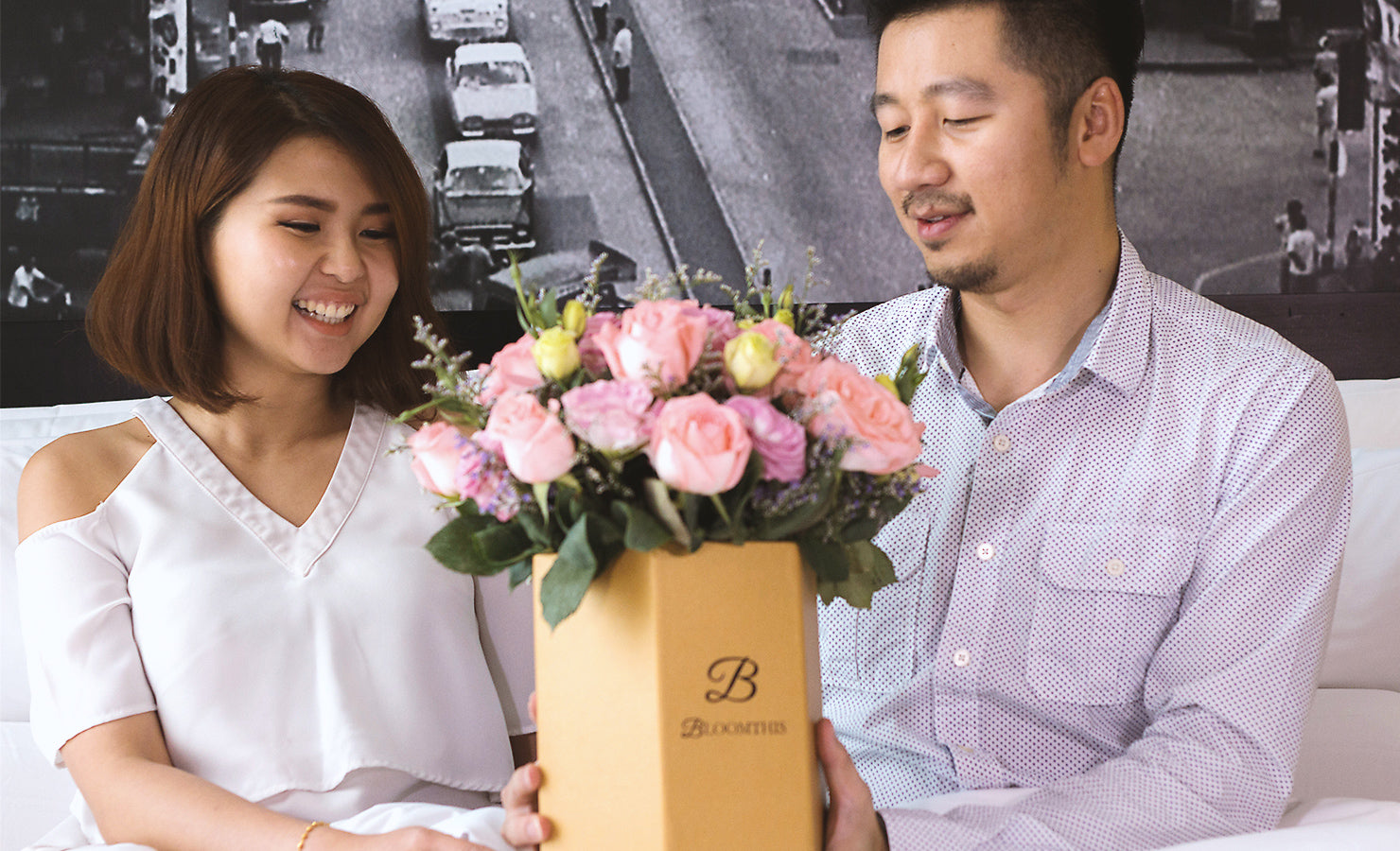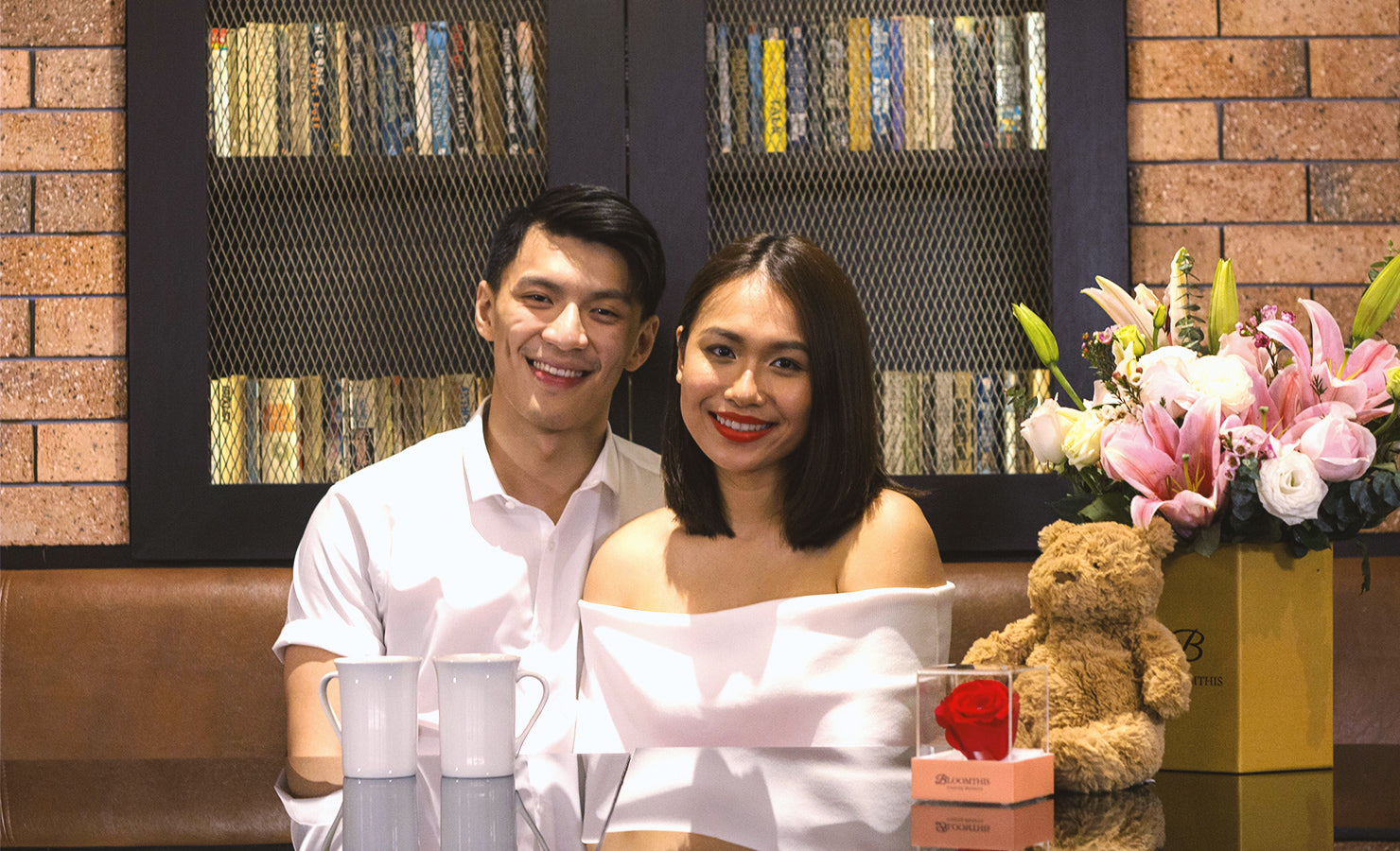 Make someone's day
Send the perfect gift