Presentable and practical! Impress your loved ones with this baby gift hamper when you pay them and their new baby a visit. Kiera is a gift set that every new mum will be delighted to receive. Bundled with Offspring baby products, the gorgeous fresh flower arrangement that comes with it is a perfect addition to the new nursery too. Have this baby hamper delivered to your doorstep today.
STEMS INCLUDED
Blue Hydrangea (1 stalk), Pink Carnation (5-6 stalks), White Ping Pong, Baby's Breath, Fish Leaves, Eucalyptus Leaves & Carnation Leaves
ITEMS INCLUDED
1 x Gentle Head-To-Toe Wash 250ml
1 x Nourishing Baby Lotion 100ml
1 x Soothing Nappy Balm 75ml
1 x Rinse-free Baby Bum Cleansing Spray 130ml
1 x Baby Wipes 20pcs - 6 pack bundle
1 x Baby Romper
PERFECT FOR
Newborn
LIFESPAN
1-3 days
COMES WITH
Free Wooden Gift Tray
Free Message Card
Free Delivery (more info)

DETAILS
Offspring Gentle Head-To-Toe Wash
Extra gentle, tear-free and moisturising for head-to-toe cleaning, suitable for newborns
Made of natural ingredients that helps soothe baby skin and scalp
Absolutely free from sulfates, parabens, synthetic fragrance or parfum, synthetic colours, T.E.A, D.E.A, Glycols, Silicones, PEGS, Ethoxylates, Formaldehyde or Formaldehyde derivatives
Offspring Nourishing Baby Lotion
Made of natural ingredients that helps soothe, moisturise and protect baby's skin
Suitable for babies of all ages
Offspring Soothing Nappy Balm
Made of natural ingredients to protect and disinfect baby's sensitive spots
Absolutely free from sulfates, parabens, synthetic fragrance or parfum, synthetic colours, T.E.A, D.E.A, Glycols, Silicones, PEGS, Ethoxylates, Formaldehyde or Formaldehyde derivatives
Offspring Rinse-free Baby Bum Cleansing Spray
Made of organic natural plants extract
Free of SLS, phthalates, parabens, fragrances, formaldehyde
Offspring Baby Wipes
Plant-based & premium ultra-soft eco-friendly wipes
Made with organic ingredients
Hypoallergenic & fragrance-free
Biodegradable plant-cellulose cloth
Take care of your gifts! Here's some tips and instructions from our gifting experts to care for your BloomThis gifts.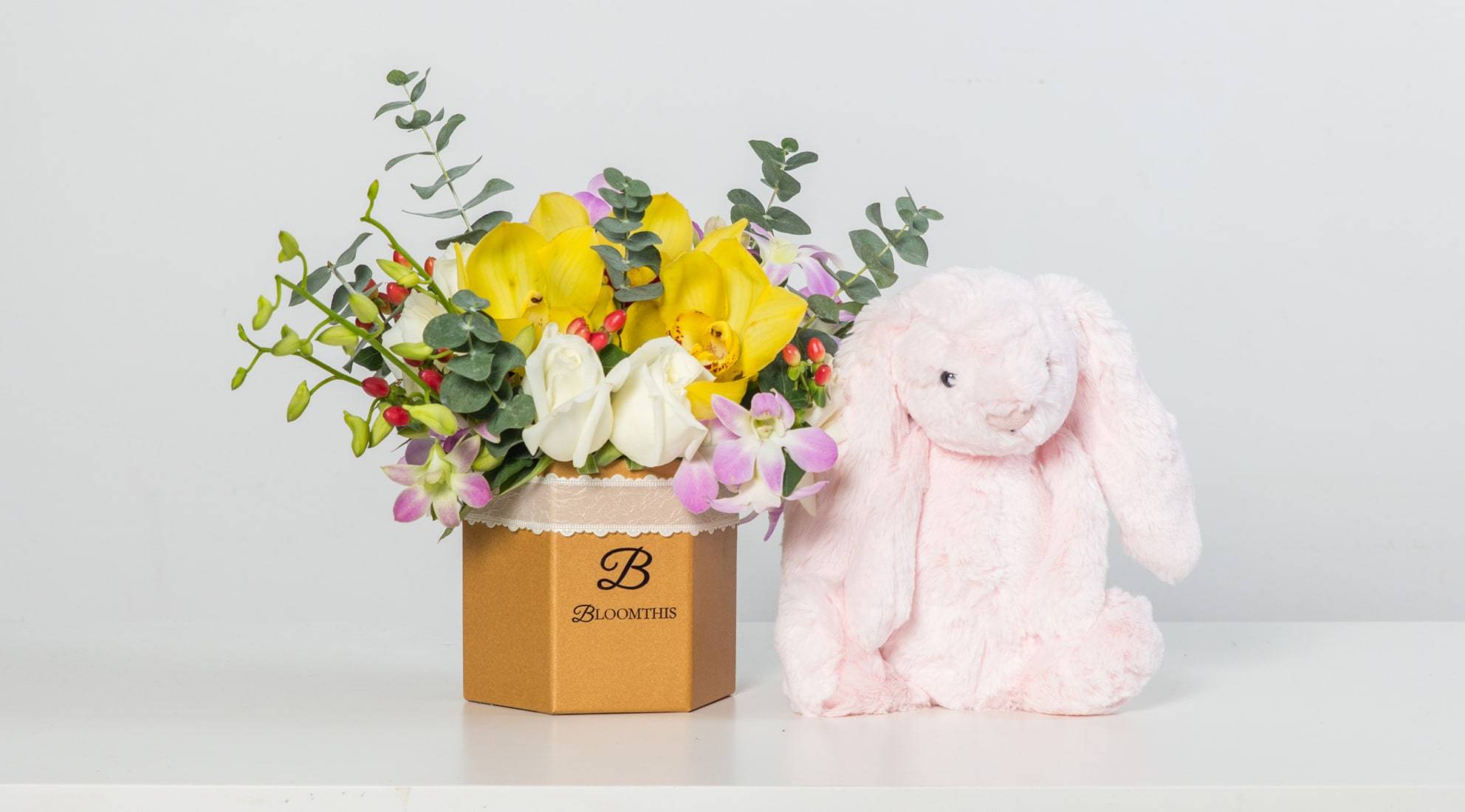 Your gifts may come with fresh flowers which need extra love and care.
If your gift contains fresh flowers that come in a hat or heart box:
Place your hat box flowers in a cool room or shaded area. Avoid direct air-conditioning, direct sunlight, extreme heat, dust and ripening fruit. All of these conditions may make your hat box flowers wilt faster.
Add roughly 100 ml of water once daily by pouring it down the middle of your hat box into the base of the flowers. Don't worry about getting your box wet. As long as you do it gently, the water will seep into the sponge that is placed at the bottom of every hat box.
When a flower begins to wilt, remove the petals or the whole flower from the hat box. Flowers bloom and wilt at different times. Removing wilted flowers will help to avoid the spread of bacteria to the other flowers.
Spray or spritz your flowers with clean tap water once a day to give it additional hydration. Flowers can absorb water from places other than the base of its stems. To do this right, use a bottle with a fine mist setting and spray from 6 inches to 1 foot away from the flowers to ensure an even coverage.
For the other items in your gift:
1. Read and follow the care instructions
Your gift may come with unique items like soft toys, chocolates, snacks, wines, baby goods and etc. For these items, do read the care instructions provided with your item to care and store them properly.
Send a gift with popular picks from our gift collection.
Covid-19 Update
Good news! Our delivery services are back to normal! We're now offering free same-day delivery if you make your order before 3 pm and delivering to most major areas in Kuala Lumpur, Selangor, Penang and Johor Bahru.
Same-day deliveries are available from Mon - Sun for orders made by 3 pm within Kuala Lumpur, Selangor and Johor Bahru; Mon - Sat for orders made by 3 pm for Penang; while our subscription boxes are delivered weekly on Thursdays. Our standard delivery services are completed between 10 am - 6 pm. Unfortunately, time-specific deliveries are currently unavailable to ensure fairness to all our customers and maintain efficiency in our operations. Deliveries are available for any addresses within Kuala Lumpur, Selangor, Penang and Johor Bahru. However, there is an additional surcharge for delivery in Penang (Mainland) based on your delivery area that will automatically shown during checkout.
We recommend having the flowers delivered to an address where you or your recipient will be present on your delivery date to ensure flower freshness and avoid any unforeseen circumstances. Should you or your recipient fail to receive the flowers, a re-delivery service is available at an additional cost depending on your recipient's location. Our special delivery team will deliver your flowers by hand.
We take great pride in ensuring that our flowers are delivered on time and in great condition. However, if you ever face a problem or delay with your delivery, please reach out to our friendly customer service team at contact@bloomthis.co or call +60126890215
For our full delivery policy, please see our Terms & Conditions.