Gorgeous red David Austin Roses are the centerpiece in this luxurious bouquet of flowers but they're complemented by ever-as exquisite Veronicas, Roses, Rose Sprays, Peacocks and Carnations. Pistacia Leaf and Skimmia provide the finishing touches to this wondrous flower hat box arrangement. Lushly fragrant, the Tessie is another ode to the David Austin Rose that we've absolutely fallen in love with. It's a rose that takes the words "I love you" to the next level. This product can be ordered in advance but can only be delivered from 3 Feb onwards (select your date on checkout).
SIZE
Large: 35 cm (L) × 34 cm (W) × 40 cm (H)
Medium: 27 cm (L) × 26 cm (W) × 28 cm (H)
STEMS INCLUDED
Large: David Austin Tess Rose (4-5 stalks), White Veronica (2-3 stalks), Red Rose (5-7 stalks), Capuccino Kenya Rose Spray (3-4 stalks), Cherry Pink Carnation (4-5 stalks), White Peacock, Green Skimmia & Pistacia Leaves Medium: David Austin Tess Rose (2-3 stalks), White Veronica (1-2 stalks), Red Rose (4-5 stalks), Capuccino Kenya Rose Spray (1-2 stalks), Cherry Pink Carnation (2-3 stalks), White Peacock, Green Skimmia & Pistacia Leaves
PERFECT FOR
Valentines Day
LIFESPAN
2-4 days
COMES WITH
Free Message Card
Free Delivery (more info)

Want to keep your flowers pretty? Here's some tips and instructions from our flower experts to care for your BloomThis hat box flowers.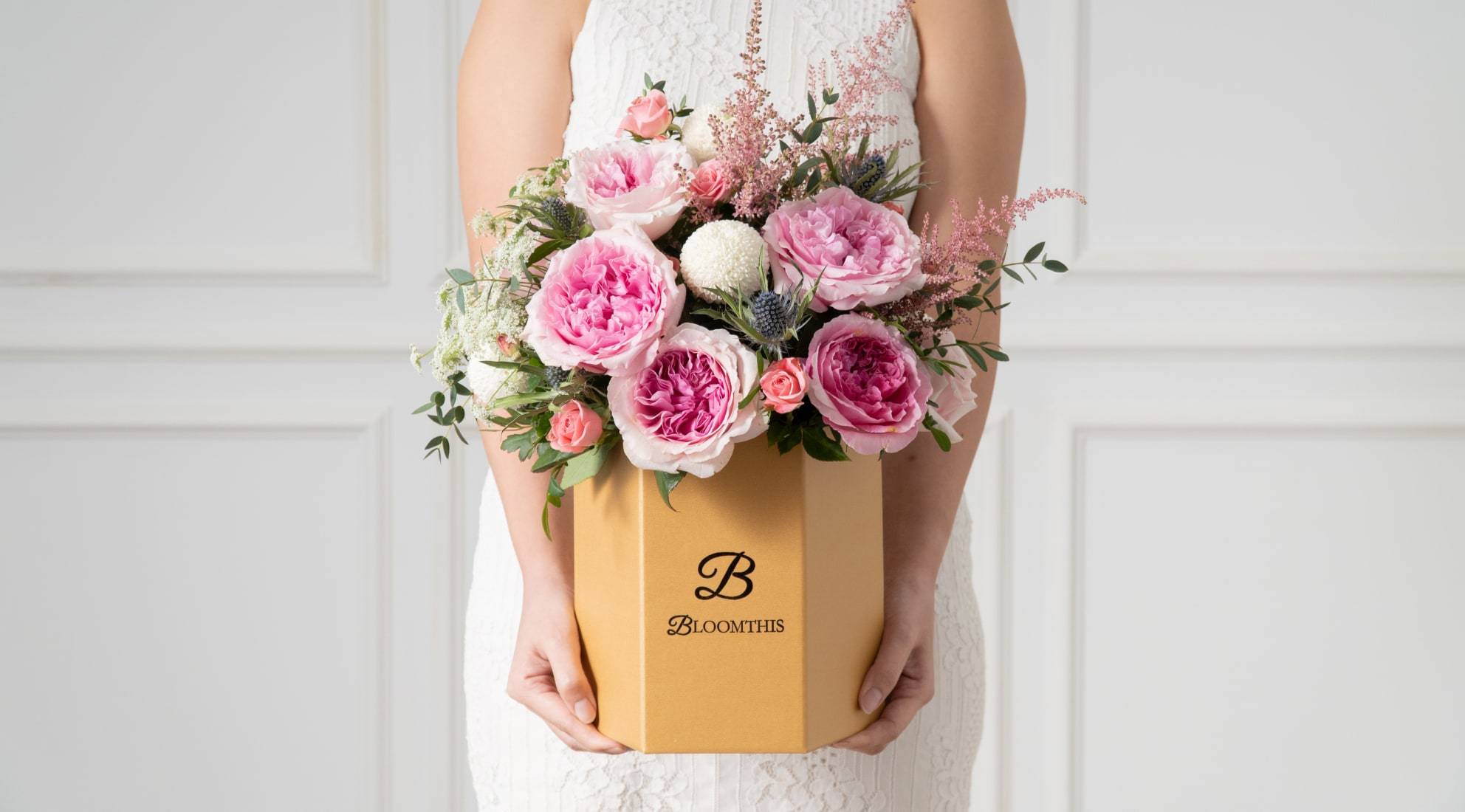 Flowers are very delicate things and it's important to keep them away from any heat source.
Place your hat box flowers in a cool room or shaded area. Avoid direct air-conditioning, direct sunlight, extreme heat, dust and ripening fruit. All of these conditions may make your hat box flowers wilt faster.
Add roughly 100 ml of water once daily by pouring it down the middle of your hat box into the base of the flowers. Don't worry about getting your box wet. As long as you do it gently, the water will seep into the sponge that is placed at the bottom of every hat box.
When a flower begins to wilt, remove the petals or the whole flower from the hat box. Flowers bloom and wilt at different times. Removing wilted flowers will help to avoid the spread of bacteria to the other flowers.
Spray or spritz your flowers with clean tap water once a day to give it additional hydration. Flowers can absorb water from places other than the base of its stems. To do this right, use a bottle with a fine mist setting and spray from 6 inches to 1 foot away from the flowers to ensure an even coverage.
Send a gift with popular picks from our hat box flower collection.
Our delivery services are back to normal! We're now offering free same-day delivery if you make your order before 3.30 pm and delivering to most major areas in Kuala Lumpur, Selangor, Penang and Johor Bahru.
Same-day deliveries are available from Mon - Sun for orders made by 3.30 pm within Kuala Lumpur, Selangor, Johor Bahru and Penang (the cutoff time for Sun delivery in Penang is on the Sat before 3.30 pm); while our subscription boxes are delivered weekly on Thursdays. Our standard delivery services are completed between 10 am - 6 pm. Unfortunately, time-specific deliveries are currently unavailable to ensure fairness to all our customers and maintain efficiency in our operations. Deliveries are available for any addresses within Kuala Lumpur, Selangor, Penang and Johor Bahru. However, there is an additional surcharge for delivery in Penang (Mainland) based on your delivery area that will automatically shown during checkout.
We recommend having the flowers delivered to an address where you or your recipient will be present on your delivery date to ensure flower freshness and avoid any unforeseen circumstances. Should you or your recipient fail to receive the flowers, a re-delivery service is available at an additional cost depending on your recipient's location. Our special delivery team will deliver your flowers by hand.
We take great pride in ensuring that our flowers are delivered on time and in great condition. However, if you ever face a problem or delay with your delivery, please reach out to our friendly customer service team at contact@bloomthis.co or call +60126890215
For our full delivery policy, please see our Terms & Conditions.