The bigger the better! The Stay Healthy Hamper holds five premium Shine health products with a complimentary mug, arranged beautifully in our special edition gift box. Have this hamper delivered to your loved one's doorstep and stay healthy as a family.
ITEMS INCLUDED
1x Shine Tropical Multizyme (10x 2 g)
1x Shine Soy Milk (700 g)
1x Shine Bokbunja Vinegar (375 ml)
1x Shine Efiedo Orange Juice Powder (10x 2 g)
1x Shine Clenza Tea (20x 2 g)
1x Shine Ceramic Cup (while stock lasts)
PERFECT FOR
Birthday, Friendship, Just Because, For Him, Congrats, Apology, Anniversary, Thank You, Get Well
COMES WITH
Free Gift Box
Free Message Card
Free Delivery (
more info
)
DETAILS
Ingredients:
Shine Tropical Multizyme
Orange Powder, Pineapple Powder, Papaya Powder, Premixed Enzyme (Amylase, Bromelain, Cellulase, Diastase, Invertase, Lactase, Lipase, Peptidase, Protease), Fructo-oligosaccharide (FOS), Orange Flavour, Beta Glucan from Brewer's Yeast, Apple Cider Vinegar
Shine Soy Milk
Organic Soy Beans, Oligosaccharide
Shine Bokbunja Vinegar
Bokbunja (Palmleaf Raspberry) Vinegar, Isomalto-Oligosaccharides (IMO)
Shine Efiedo Orange Juice Powder
Bifidobacterium longum BB536, Galacto-oligosaccharide (GOS), Isomaltulose, Orange Juice Powder
Shine Clenza Tea
Rosemary, Cassia Angustifolia, Orange Peel, Coriander Seed. Buckthorn Bark, Rosehips
Take care of your hamper! Here's some tips and instructions from our gifting experts to care for your BloomThis hamper products.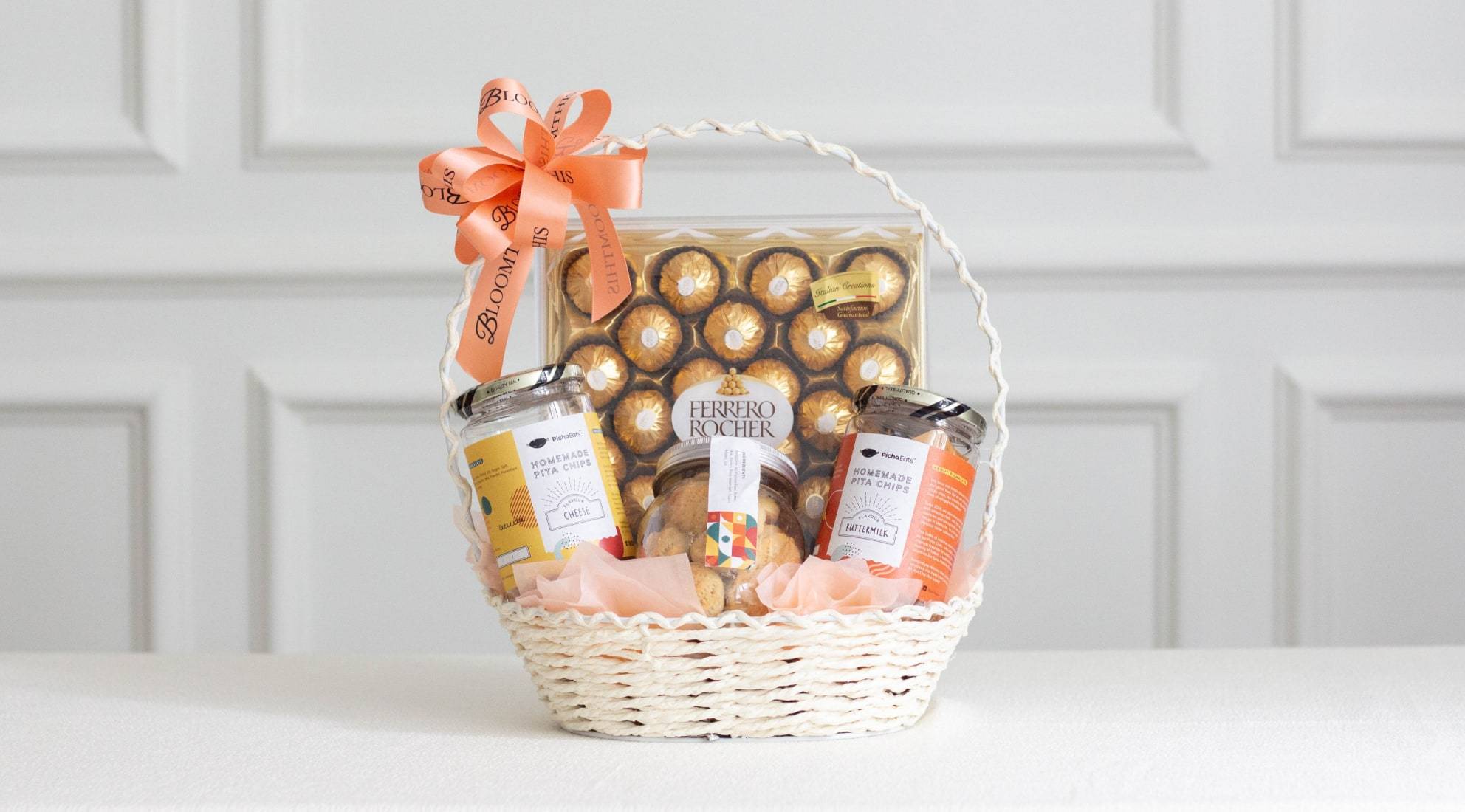 Treat yourself or your loved ones with our curated hampers.
1. Place in a cool & dry area
Store your hamper in a cool and dry room or shaded area. Avoid direct sunlight, extreme heat, dust and water. All of these conditions may spoil your hamper.
2. Read and follow the storage & consumption instructions
Your hamper may come with unique items like health supplements, chocolates, snacks, beverages and etc. For these items, do read the storage and consumption instructions provided with your items to care, store and consume them properly.
Send a gift with popular picks from our hamper collection.
Our delivery services are back to normal! We're now offering free same-day delivery if you make your order before 3.30 pm and delivering to most major areas in Kuala Lumpur, Selangor, Penang and Johor Bahru.
Same-day deliveries are available from Mon - Sun for orders made by 3.30 pm within Kuala Lumpur, Selangor, Johor Bahru and Penang (the cutoff time for Sun delivery in Penang is on the Sat before 3.30 pm); while our subscription boxes are delivered weekly on Thursdays. Our standard delivery services are completed between 10 am - 6 pm. Unfortunately, time-specific deliveries are currently unavailable to ensure fairness to all our customers and maintain efficiency in our operations. Deliveries are available for any addresses within Kuala Lumpur, Selangor, Penang and Johor Bahru. However, there is an additional surcharge for delivery in Penang (Mainland) based on your delivery area that will automatically shown during checkout.
We recommend having the flowers delivered to an address where you or your recipient will be present on your delivery date to ensure flower freshness and avoid any unforeseen circumstances. Should you or your recipient fail to receive the flowers, a re-delivery service is available at an additional cost depending on your recipient's location. Our special delivery team will deliver your flowers by hand.
We take great pride in ensuring that our flowers are delivered on time and in great condition. However, if you ever face a problem or delay with your delivery, please reach out to our friendly customer service team at contact@bloomthis.co or call +60126890215
For our full delivery policy, please see our Terms & Conditions.