Article: Flower meaning & symbolism - here is what you didn't know about sunflowers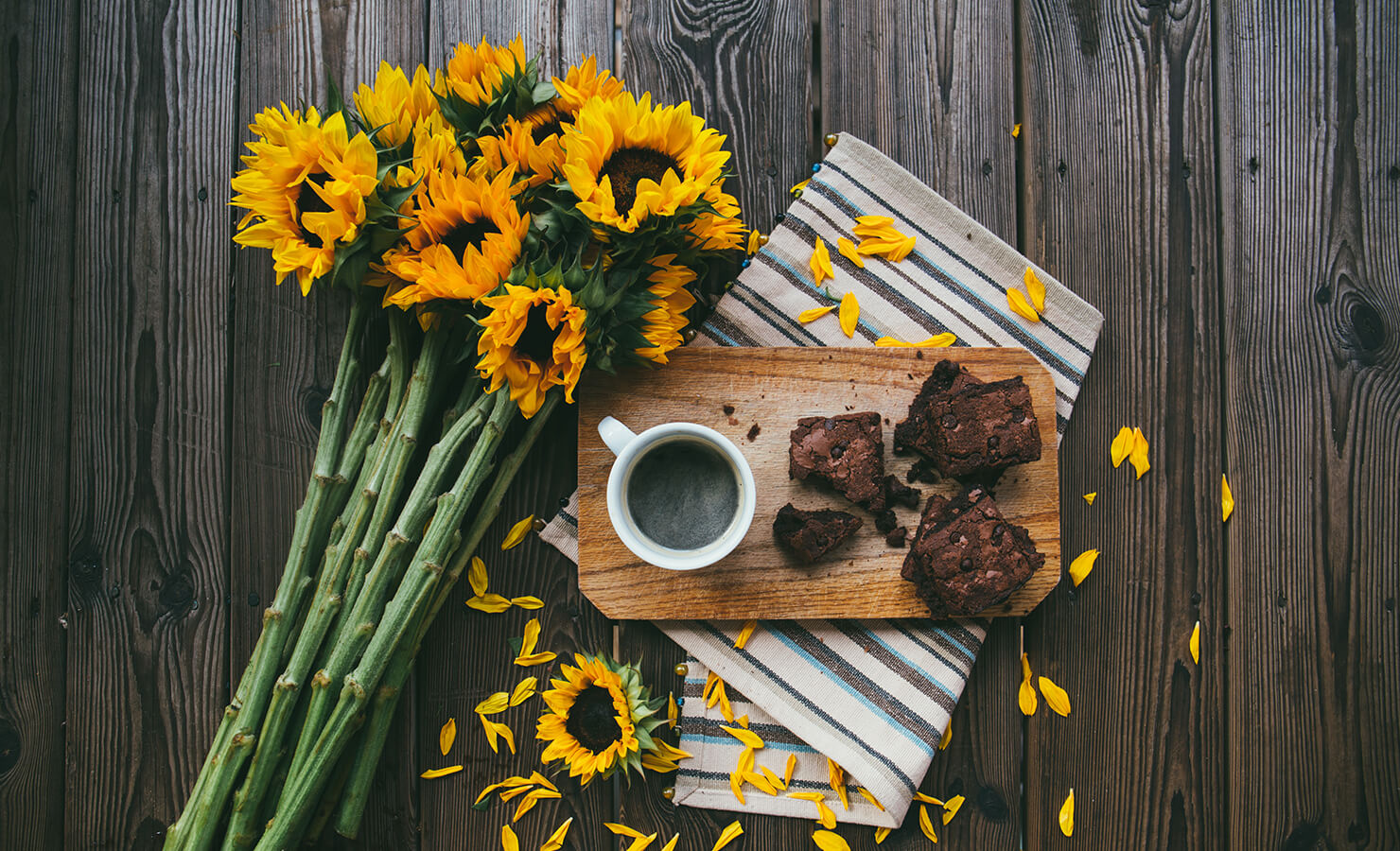 Flower meaning & symbolism - here is what you didn't know about sunflowers
Radiant, lush and full of joy - sunflowers bring summertime to mind and happiness to our loved ones. Of lazy sunny days and swaying to the sunny breeze, the ever-popular sunflowers go by the genus Helianthus, which is christened from two Greek words. Helios means the sun and anthos means flower. Sunflowers tend to position themselves towards the sun, and if that isn't the ultimate tanning queen move, we don't know what is!
Sunflowers don't just look big and beautiful, they can mean so many wonderful things and we just can't wait to share them with you! If you aren't crazy about sunflowers now, maybe you'll fall head-over-heels for these abundant posies after you've learned more about them. Read on to find out more about the different meanings of sunflowers and the best occasions to give sunflower bouquets to the people you want to share joy with!
1) Sunflowers in Greek mythology
Once upon a time in ancient Greece, a nymph named Clytie fell deeply in love Apollo, god of the sun. Although Clytie was beautiful by nymph standards, Apollo did not reciprocate her feelings, or acknowledge it. After nine days of hopeless devotion, the nymph then transformed herself into a sunflower and constantly turned towards the sun so she could always be with the one she loved, somehow. Greek mythology states that she still hopes to see Apollo return to her someday in his bright and beautiful chariot.
2) A tale of worship and adoration
Do sunflowers really follow the sun, like in the Greek myth? Some flowers are heliotropic, in which they actually follow the movement of the sun as it rises in the East and sets in the West. However, scientific studies have found that only the buds and the leaves of sunflowers are heliotropic. The leaves are phototropic too, which means that they tend to grow towards the light source. Once the sunflowers have bloomed, they are no longer heliotropic, but remain fixated towards the East, where the sun rises.
Many people still associate sunflowers with worship and adoration because they appear to always face the sun, plus, they radiate pure joy and positive vibes. Sunflowers symbolize unwavering faith and unconditional love. It's perfect to send to your loved one if you want to express exactly how much you adore him or her. Sunflowers, especially the ones grown in farms, are often photographed stretching their tall stalks and vibrant petals towards the sun. This is how sunflowers came to mean worship and adoration. Here is a large sunflower bouquets you may like to send to your loved ones to express your deepest unconditional love.
A bouquet that even boys and men will adore. Truly a pocketful of sunshine, Cheyenne's artistic mix of sunflowers, yellow lilies, and caspia would surely delight your loved one.
3) Radiating joy and happiness
Without a doubt, the sunflowers radiate pure joy with their tall stalks, giant heads, and adorned with lush yellow petals. If we close our eyes and listen closely, the sunflowers seem to emit positive energy and good vibes from the sun itself. Sunflower arrangements are the perfect gift for any joyous occasions, such as new launches, baby showers, birthdays, graduation - basically any occasion worth celebrating and creating memories with your loved ones. When you bestie is feeling down, you know exactly what you need to cheer them up - a sunflower bouquet for days.
The perfect radiant curation with Taiwanese sunflower, red roses and pink alstroemeria. Hello happiness! Guaranteed to lift spirits and spread positive vibes all around.
For joyous occasions, check out this flower gift box from our Newborn Collection. The perfect baby gift box of newborn flowers - handcrafted with sunflowers, lilac matthiola, avalanche pink roses and pink berries. Brighten up your loved one's day with this newborn baby gift.
4) Once a symbol of provision
Sunflowers originated from North America and were commercialized by Russia. It was only recently that the sunflowers became a true cultivated crop in North America. Once, during the long-forgotten times of 3000BC, sunflowers were picked by hunters and gatherers as a natural food source. Their seeds could be ground and pounded into flour for bread - much like the pita bread we have today. Besides that, their seeds could be squeezed of oil to be used for cooking purposes. Soon, the sunflowers were domesticated and farmed at parts of North America, such as New Mexico and Arizona.
Hence, here is where the sunflower symbolism of provision originated. Can you believe that these happy flowers were once hunted for nutrition? Much later, in the 1830s, sunflowers became commercialized for sunflower oil. The Russian Orthodox Church even went as far as to forbid most oils to be consumed during Lent, but sunflower oil was not one of them.  'Til this day, we still have food products made from sunflowers such as sunflower seeds as a healthy snack and sunflower oil for cooking. Sunflowers did not only provide love and joy, they once provided all the nutrition we needed as well.
5) Immortality and longevity
In the aspect of Chinese culture and symbolism, the sunflower represents longevity and good luck and is considered as an auspicious gesture. To the Chinese, it's positively yellow colour symbolized vitality and an abundance of intelligence. It's a symbol of happiness too. Sunflower seeds were consumed as snacks by the Chinese royalty as a desire to achieve immortality. At that time, sunflowers were not just a representation of longevity, they were believed to radiate powers of immortality as well.
With their tall stalks still standing, unwavered even on the hottest summer days, it's no wonder that these gorgeous yellow blooms have come to symbolize a long, long life. If you want to wish someone a long life filled with joy and happiness, sunflowers are the best gift to express just that!
Such a grand gesture of love! This dazzling curation will turn heads and capture your loved one's heart with orange birds of paradise, sunflowers, orange orchids and golden showers.
6) A revolutionary symbol against nuclear weapons
As sunflowers are like golden sundrops sent down to earth after the storm, they symbolize a bright future ahead too. What many people are unaware of is that sunflowers play a significant role at the frontline of anti-nuclear revolutions. Back in 2011, a radioactive spill from a nuclear power plant at Fukushima caused an earthquake and tsunami that struck Japan. Although the power plant is no longer operating, it still emits radioactive substances into the city's soil. In a valiant effort to absorb the toxicity, a community project called the "Fukushima Sunflower Foster Parent Project" was launched using - you guessed it - sunflowers!
Scientists found that sunflowers have an ability to absorb radiation from the soil at a much faster than other plants. A Buddhist monk named Koyu Abe took the initiative to distribute sunflower seeds to volunteers who would then harvest the seeds. Over 8 million sunflowers were planted in Fukushima that year. More than just clearing up a nuclear tragedy, sunflowers were a symbol of hope and faith to restore Japan, and it helped the citizens move towards a better future.
Besides in Japan, when Ukraine gave up nuclear weapons in favour of world peace, sunflower seeds were planted at the missile base as the Ukrainian government committed to a nuclear-free initiative and hoped for peace between future generations. Who knew that this happy flower could be part of a fight against nuclear weaponry? Sunflowers are warriors in their own yellow blossomed way.
Meanwhile, they still symbolize a bright future for anyone who envisions it. Sunflowers are popular congratulatory gifts and sunflowers make stunning graduation bouquets especially if your loved one needs a lil' encouragement and cheering up. Check out these graduation bouquet ideas and send sunflowers to your loved one today.
It's always summertime here with Calypso. Add some fun to your graduation with this stunning bouquet of made of lush sunflowers, red roses, pink alstroemeria and eucalyptus leaves.
Of sunny days & vibrant skies, Cindy brings a ray of sunshine to symbolize a bright future after graduation. This adorable graduation flower bouquet is made of sunflowers, red berries, purple caspia and song of jamaica leaves.
A sophisticated curation of sunflowers and roses, let Giselle send a message of a love that never ends. This sunflower arrangement is also curated with hot cherry pink roses, sweet williams, dancing lady, purple caspia, and eucalyptus leaves.
7) The best flower for an everlasting friendship
If you need some gorgeous posies for your bestie, sunflowers are the perfect symbol of a friendship that lasts forever. A large sunflower bouquet would make anyone smile! Sunflower bouquets are perfect reflection of a close bond between friends and loved ones. It's bright, warm, and fresh like a summer's day. Their vibrant yellow petals symbolize shared cheerfulness between friends. Their tall stalks resemble a friendship that stretches for miles, no matter what the distance; and their abundant seeds represent a friendship with meaning and fulfillment. Sunflowers are like your besties, they light up your world and would do anything to make you happy. Here are some sunflower bouquet ideas which you and your BFF may love!
A 100% Instagrammable cutie, Tinkerbell is a dainty arrangement that will make your bestie say "awwww..." This beauty is made of a sunflower, red berries, baby's breath and eucalyptus leaves.
Orange roses symbolise the warmth of friendship. Sunflowers and matthiolas signify love and loyalty. Surprise your favourite person with this lively curation. Cheers to a friendship, heartwarming and joyous!
Sunflowers do so much more than radiate joy, remember that each yellow petal, each tall stalk, and each seed of these gorgeous blooms has a rich backstory to tell. Now you know!
Want more?
Read more stories
The Queen of Roses: Ecuadorian Roses
Introducing preserved Ecuadorian Roses gift boxes. Symbolising eternal love, these remarkable gifts are made with artisanally preserved Ecuadorian roses, enveloped carefully in premium acrylic casi...
Read more
Make someone's day
Send the perfect gift